The A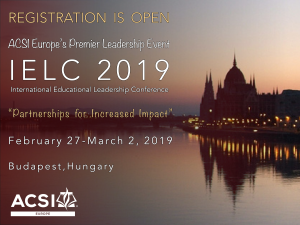 CSI Europe team is excited to announce our 3rd International Educational Leadership Conference, which will be held in Budapest, Hungary, from February 27 – March 2, 2019.  We are expecting around 200 school leaders from over 20 different countries to participate.
The theme for the conference is "Partnership for Increased Impact".  ACSI Europe is encouraged to see a desire among many of our member schools to engage meaningfully with schools from outside of their own culture.  While establishing these partnerships has to be the initiative of the schools involved, ACSI Europe desires to be a "meeting point" where potential partners can connect.  This conference, as well as our e-learning courses, are designed to support this.
Are you looking to develop a partnership for increased impact in your school? What impact do you dream of seeing as a result of a partnership with a school from a different culture?  Please share your thoughts and dreams in the comments below.  Maybe this could be a first step in finding a like-minded partner, who you then connect with in person at IELC 2019.